Kids Shoe Size Chart and Measuring Guide
Measuring your Child's Feet
We recommend that you take time to measure your child's feet and order the correct size. Correctly fitting shoes are so important and it's not always easy to get it right. Shoes are made from moulds and as a consequence they will fit differently. Even similar styles of shoes in the same size and from the same brand can fit differently. This page aims to help you in measuring your child's feet correctly and minimising the chance of ordering the wrong size. However, we know that it's not always possible to get it right and that's why at ShoesForChildren we offer a free exchange service, covering the cost of your postage with our easy Freepost service. We've included a range of videos and shoe size charts to help you navigate through the measuring process.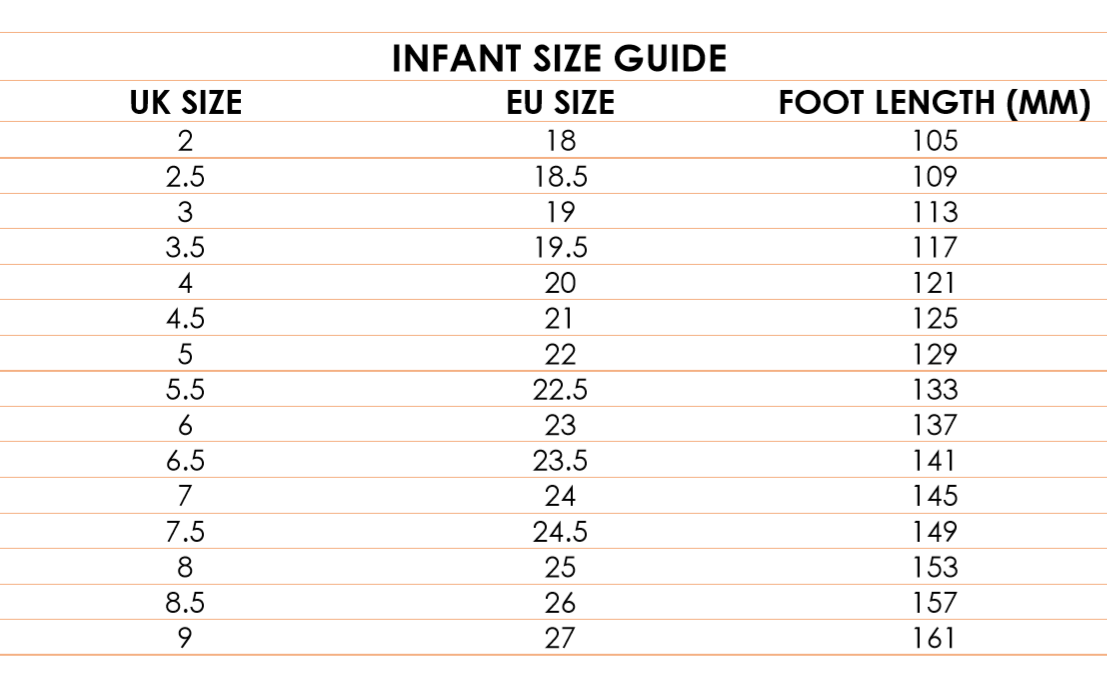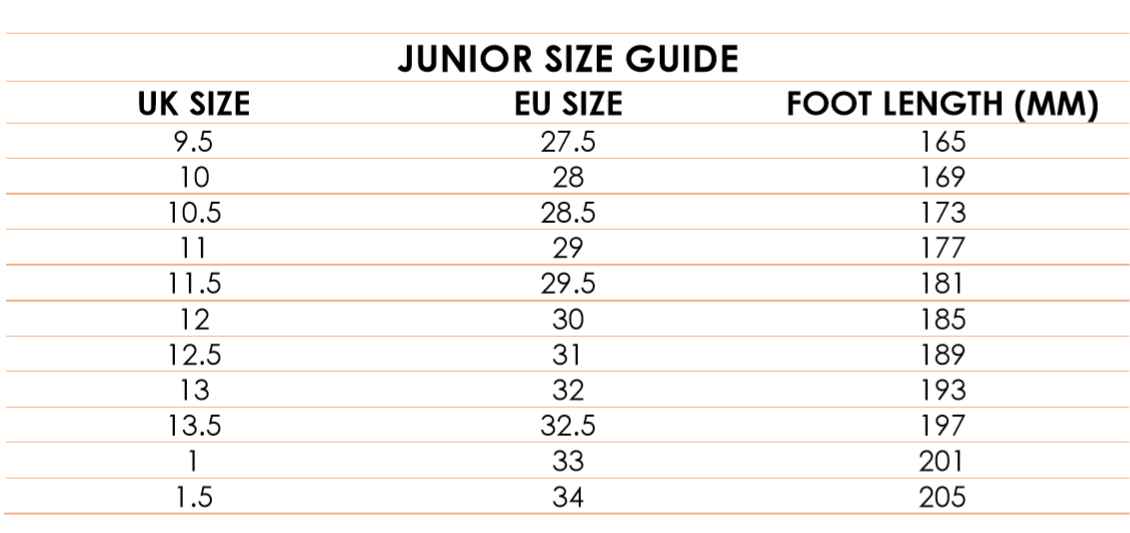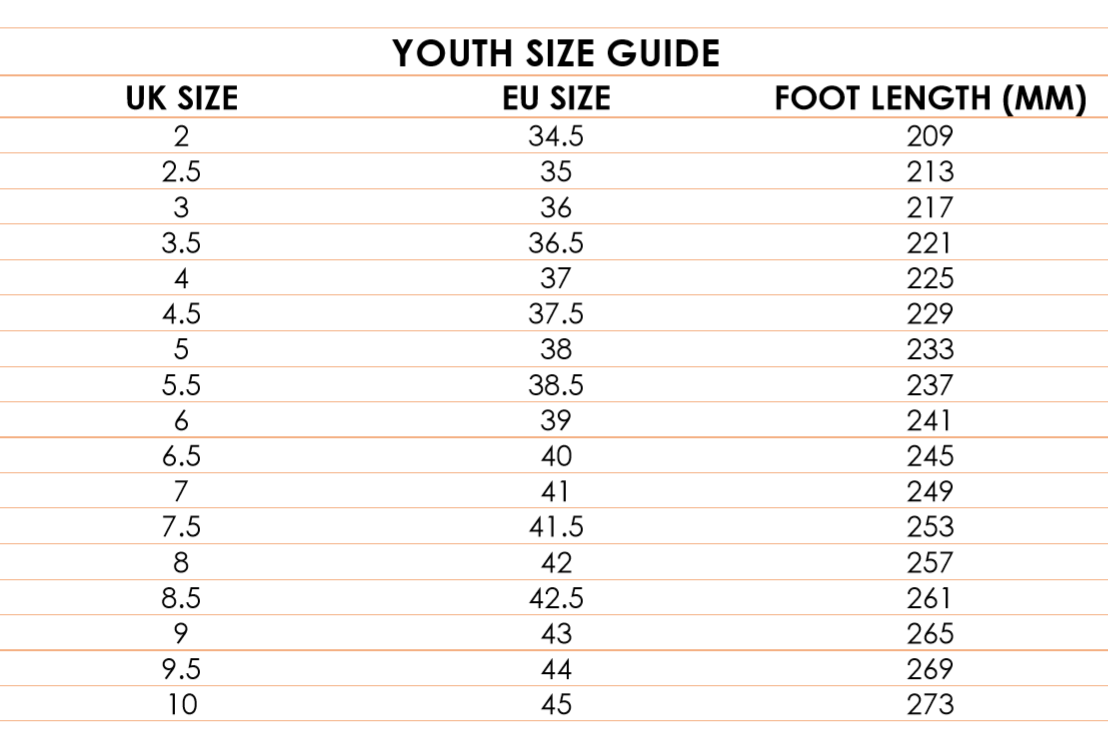 Our kids' shoes start from a toddler size Euro 18 (UK size 2) up to an adult size Euro 42 (UK size 8).In school shoes, we also offer sizes up to Euro 47 (UK size 12). Our shoes come in half sizes and different widths. Each brand tends to fit somewhat differently. Below is some information on each of the brands we stock and which will hopefully make choosing that little bit easier. 
The Fitting of Brands:
Clarks
This English shoe brand offer shoes in a variety of widths from E (narrow fit) through to an H (extra wide). Their kids shoes are also available in half sizes. 90% of kids will either be an F or G width shoe.
Ricosta
This German brand tends to be good for a narrower foot (i.e. E-F width) and they come in European sizes. Our shoe conversion charts will help you to work out the EU-UK shoe size conversion. 
Geox
This Italian brand tends to be good for a standard to wider foot (i.e. F-G width). Again, they are usually quoted in EU shoe sizes so please refer to the UK-EU shoe conversion chart. 
Pediped
This American brand are good for the wider foot from a G-H width
Click For Printable Sizing Chart
This chart is the quickest way to know what size shoes to order for your child. Please note that many customers measure incorrectly with this guide by not printing to the correct scale. Please follow instructions carefully and set your printer settings appropriately.
Hush Puppies
These shoes are great for a range of widths from E through to G, as each pair comes with a range of different insoles as standard. You can remove the insoles in order to find the perfect fit and they are therefore a good choice if you are unsure of your child's width.
Width Guide:
E – Narrow Fit
F – Standard Fit
G – Wide Fit
H – Extra Wide Fit
 
If you are unsure of your kid's shoe size or would like any help then do please email us at [email protected] and we will be happy to help you find the right size for your children's shoes.
How do I measure my child's feet? A step by step guide to help you measure at home:
Step 1: Buy a Clarks foot gauge
Clarks measure at home foot measuring gauges come in two sizes (junior foot gauge, toddler foot gauge) depending on the age of your child and the size of their feet. To buy a foot measuring gauge just select the size that's right for you.
 

Infant gauge (Sizes 2 - 9.5) 

 

Junior gauge (Sizes kids 10 to adults 10)
Step 2: Measure at home
Clarks have created easy to follow guides to help you measure at home with ease. Click on the video guides or click the download for written instructions.
  Download Infant Guide         Download Junior Guide
Step 3: Calculate your child's shoe size
Once you've measured your child's feet using your Clarks foot gauge, type their measurements into the Clarks calculator to find out their shoe size. Once done you can then browse our great selection of shoes!
Click for the Clarks calculator 
Step 4: Check the fit
Once you receive your child's shoes, it's important to check that they fit correctly. Our quick and easy video guide will help you do this in no time at all, allowing your child to jump straight into their next adventure in unbeatable comfort. Click on the video guides or click the download for written instructions. Remember also to click on our shoe care guide which shows you how to care for your children's shoes.