This article highlights the main advantages to buying water proof shoes and also answers many of the key questions that parents may have, such as :
1. Are waterproof shoes worth the money?
2. What makes a shoe waterproof?
3. Can I wash waterproof shoes?
4. How can I make my shoes waterproof?
5. Why should I buy waterproof shoes for my children?

There are three main advantages of having waterproof shoes
1.  Waterproof shoes last longer than other types of shoes.
2.  Wearing waterproof shoes means dry socks, dry feet, and the prevention of fungus or bacteria  growing inside the shoes.
3.  Waterproof shoes prevent blisters because when the feet get wet, the skin gets softer and more prone to developing blisters.
Are waterproof shoes worth the money?
As we all know waterproof shoes come at a price, but are they worth that price?  Yes they certainly are.  Waterproof technology has improved considerably in recent years, allowing waterproof shoes to be more flexible and breathable.
What makes a shoe waterproof?
Waterproofing simply means creating a barrier between the shoe and the water and preventing the water from getting inside the shoes. Every waterproof shoe is made with a certain material to make it waterproof. Here are some examples:
GORE-TEX is a waterproof technology that prevents water getting in while allowing perspiration out, helping keep your little ones feet keep cool, comfortable and stay dry when it's wet under foot.
GORE_TEX shoes can be cleaned by using lukewarm water to remove the dirt and mud with a cloth or brush. Lay them upside down to dry with some newspaper inside. Avoid using products that contain wax or are greasy.
Amphibiox is top of the range in terms of Geox's waterproof products. It stands out from other waterproof shoes by using Geox's pioneering waterproof and breathable sole, pairing it with a series of innovative technologies on the upper, to achieve durable water resistance and breathability.
Sympatex is a fabric developed as an eco-friendly alternative to other functional fabrics, such as GORE-TEX, and like its main competitors, Sympatex serves the function of promoting breathability while remaining 100% waterproof.
Can I wash my waterproof shoes?
It is not recommended to put your shoes in the washing machine as they will lose their coating and no longer be waterproof. Usually, rinsing the shoes in cold water is enough, and maybe gently hand washing if absolutely necessary. 
How do I make my shoes waterproof?
Buying the wrong product can damage the shoes instead of protecting them. There are certain types of waterproofing products that will suit the type of shoe material to make it waterproof.
Soft leather shoes: Oils, creams and beeswax, are very good at waterproofing soft leather.
Thick leather shoes: To provide a better layer of protection from elements use creams and wax products.
Suede, fishskins, snakeskins and silks: Spray-on waterproofs are more suitable for these types of materials. 
I would recommend that you read and understand the product before buying it in case it alters the colour of the shoes for any reason.
Below you can find a number of different waterproof products from the brand Kiwi.
Waterproofing shoes with wax
All you will need is a tea light, and a hair dryer.
Take the tea light candle, and rub it onto the shoe (you can blow dry the candle so it will rub on the shoe easier). Rub the candle on the shoe until the shoe is covered in the wax, or is all white. 
Once the shoe is now white, blow dry the shoe until the shoe goes from "white", to it's original color.
If you would like to test to see if it has worked, then put the shoe under cold water tap.
Treating shoes with waterproof spray
Purchase a waterproof spray
Hold the can 15–20 cm away from the shoe and spray on a light, even coating. Make sure you cover every part of the shoe where moisture might get in, including the seam where the upper connects to the outsole. Don't make the shoe too wet.  
Wipe off any excess spray with a cloth.
Let the shoes dry overnight in a well ventilated area.  It is best to leave them to dry for 24 -48 hours.  If you feel it needs more coats then re apply every few months to keep your shoes protected.
Finally, Is it worth buying waterproof shoes for my kids?
Yes it is well worth it! As a mum of two children, I find waterproof shoes are amazing. Children just don't listen to you when you say 'No' to avoid those puddles. They all love puddles to jump in, their shoes end up soaking wet and they take ages to dry. Children love to have comfortable footwear whilst having fun stomping in puddles so it's important to make sure their feet feel great and stay dry; that way us parents have peace of mind.
Here is a link which explains the difference between Waterproof and Water Resistant shoes
Below are some of our favourite waterproof shoes from brands like Clarks, Geox and Ricosta.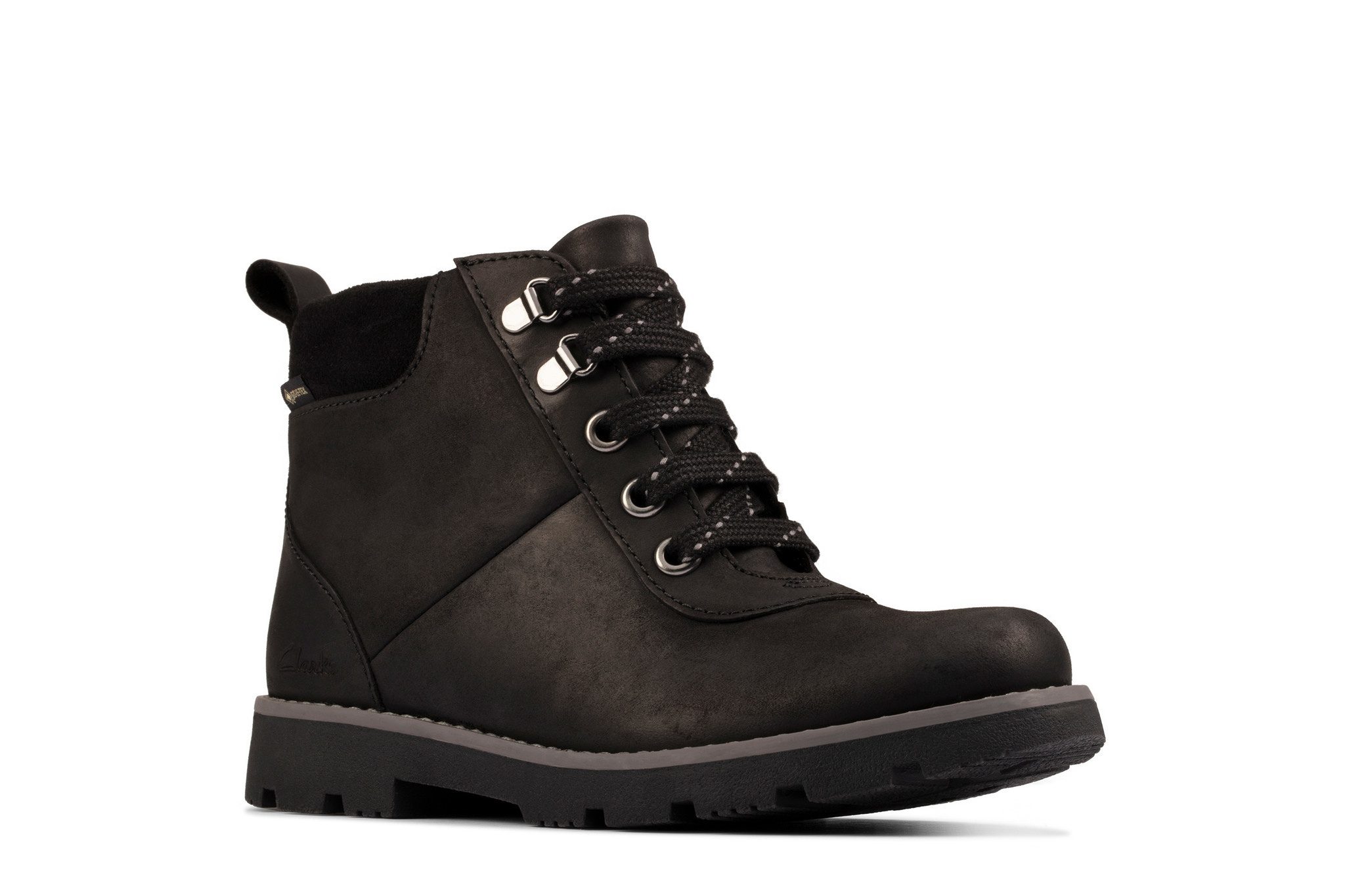 Clarks Heath Go GTX Boot - These boots have the added benefit of being waterproof, with breathable GORE-TEX® technology to help keep your little ones feet dry and comfortable.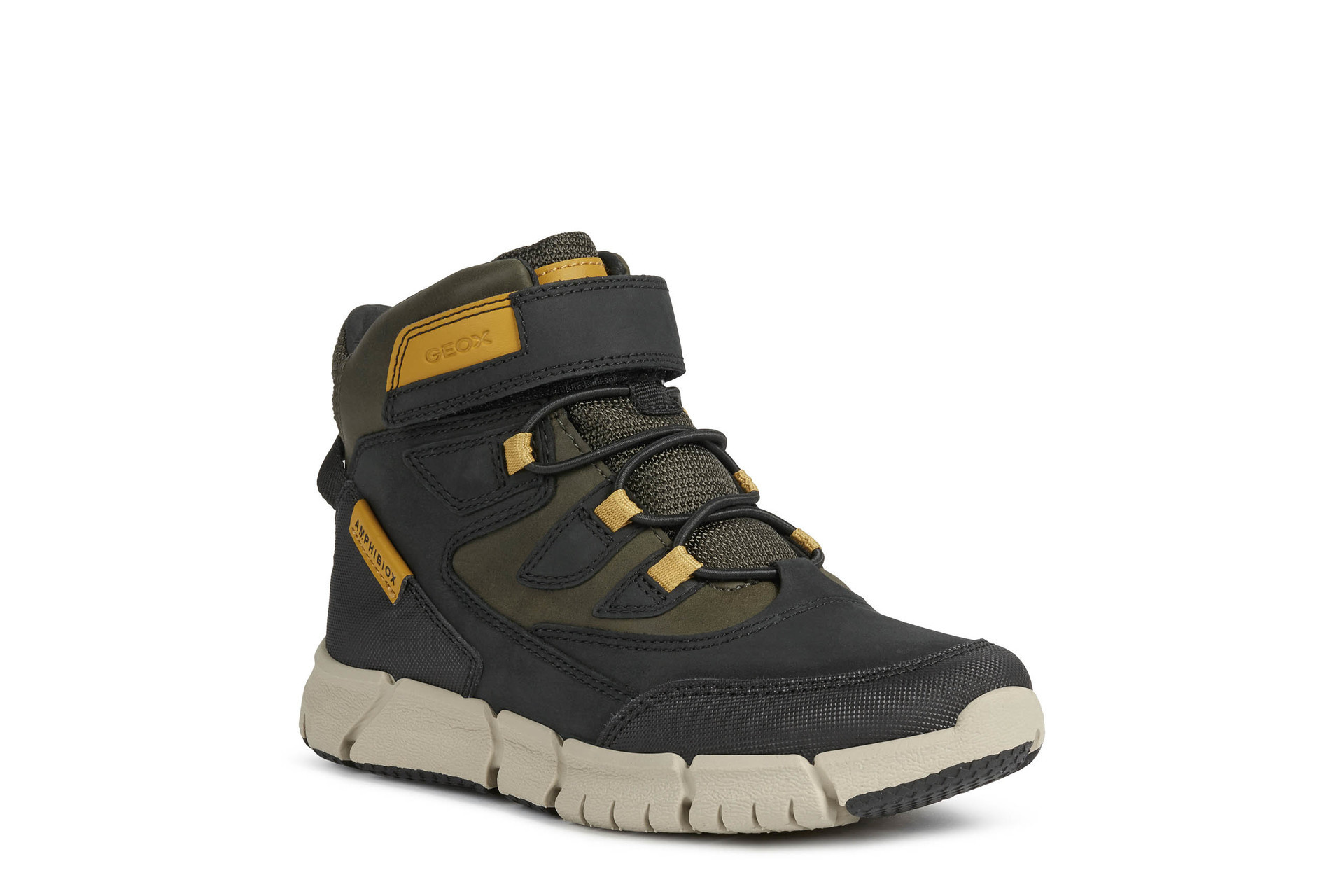 Geox Flexyper Black/Yellow - This boot offers excellent levels of flexibility, with cushioning and stability. It is snug, lightweight, waterproof and perfect for the winter months where your children will be making the most of the outdoors.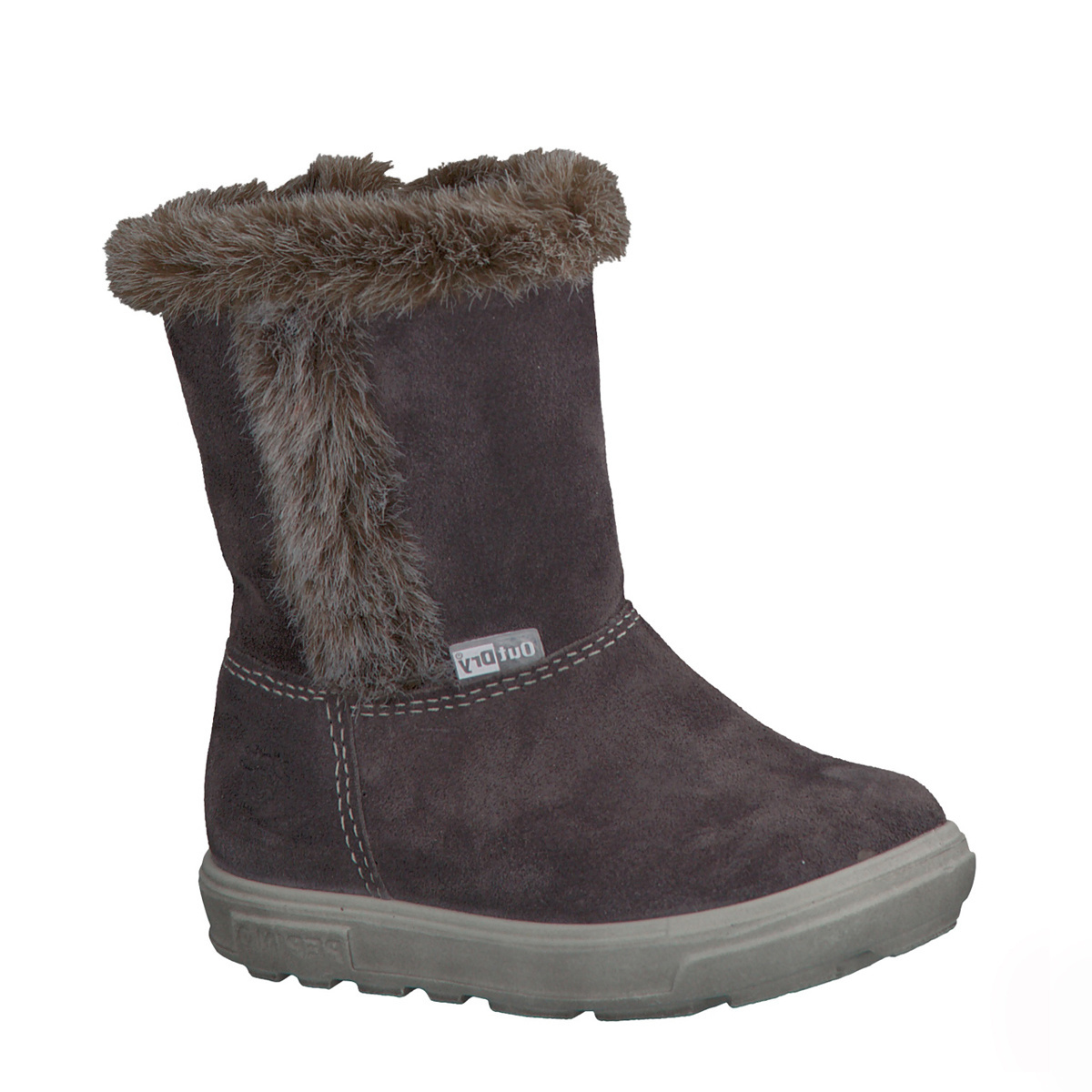 Ricosta Usky -This boot is lined with gorgeous lambs wool to keep those younger children's toes toasty.  You're sure to get complements in these! They are also waterproof to keep those little feet dry!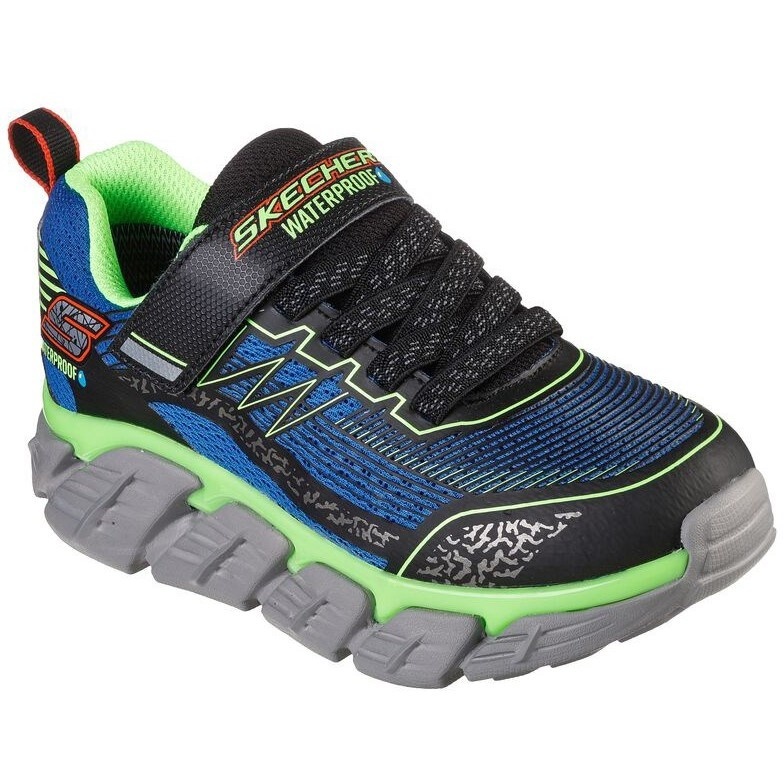 Skechers Tech Grip are the perfect trainer for any active boy. This waterproof slip-on design features an athletic mesh and synthetic upper with a stretch-laced front and shock-absorbing tech midsole. They offer a cushioned sole for extra comfort.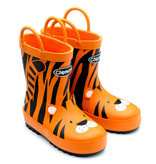 Chipmunks Anton Tiger Wellies - these wellies are 100% waterproof.  They come with a soft fleece lining to insulate feet, keeping them warm and toasty.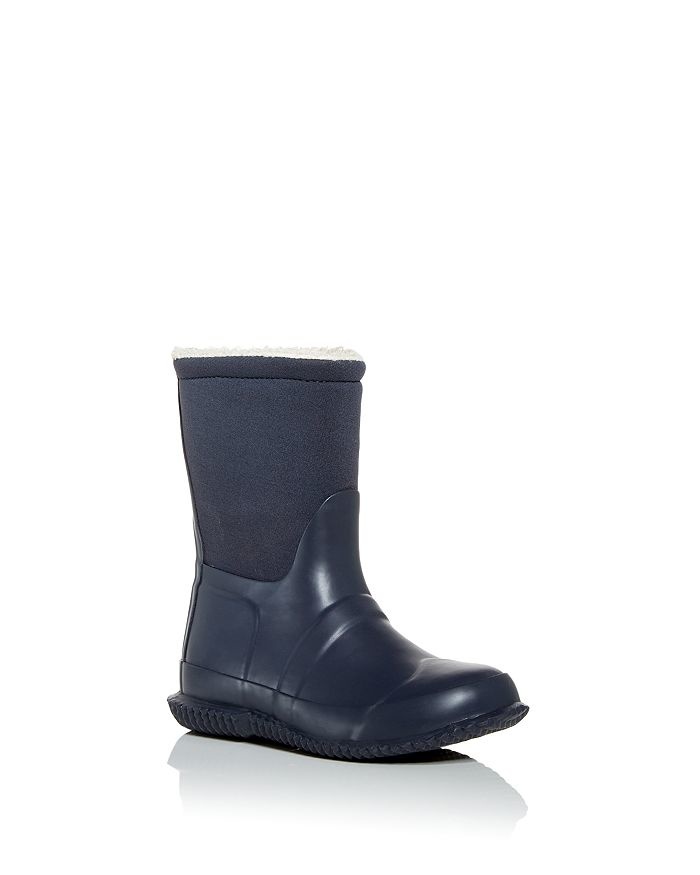 Hunter Sherpa Boots - These are great boots for little ones to take on the cold as they have a fleece lining and a thermal insulated sole.  They are also waterproof and equipped with an Ortholite foot bed with a firm grip perfect for slippery days.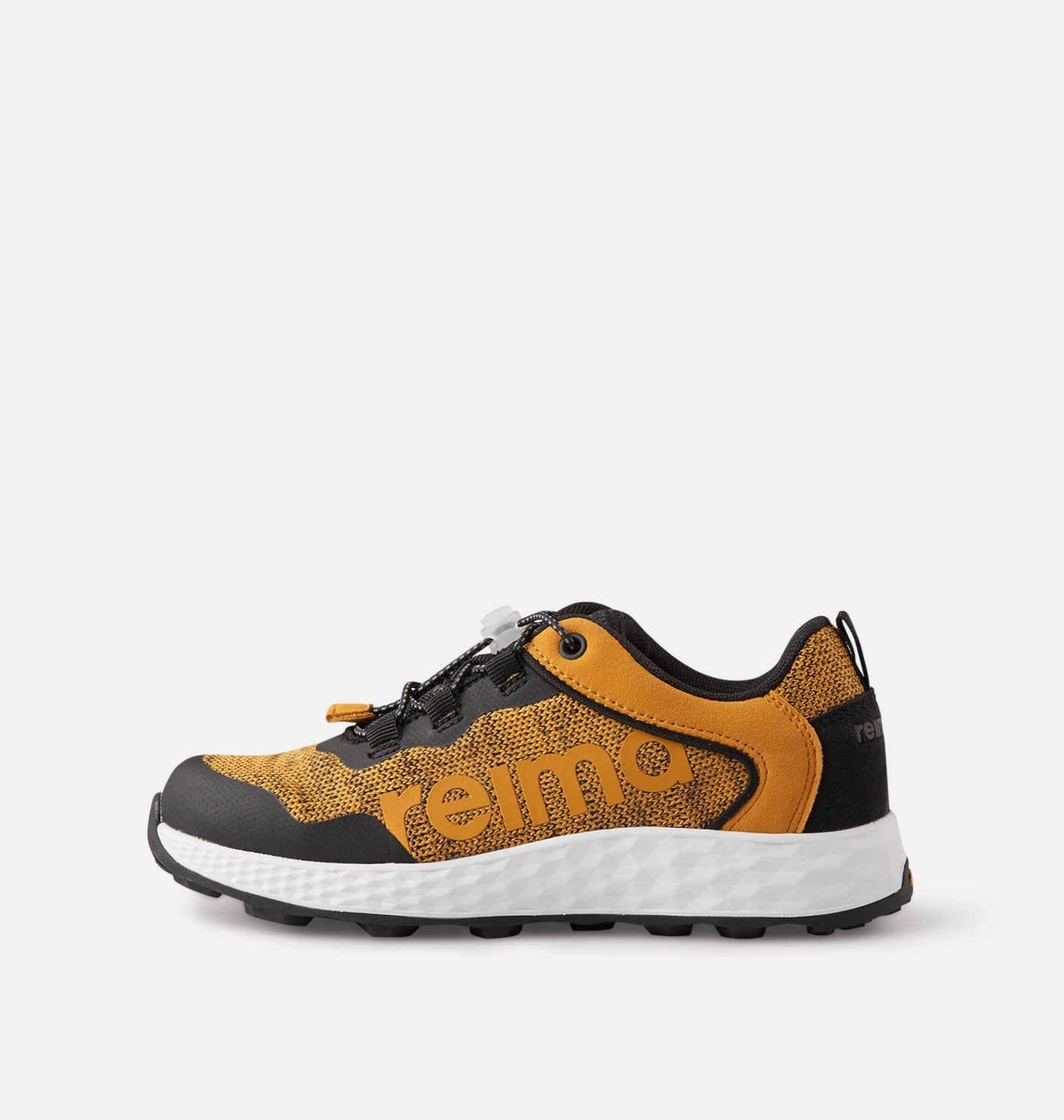 Reimatec Aloitus - These shoes are great for hiking in different weathers as they have multi-terrain grip with elastic lacing for fast and easy pull on and off.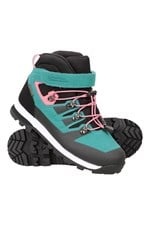 Scale Kids Walking Boots - These waterproof boots deliver on comfort and are totally robust.  They feature a high traction outsole and a breathable mesh lining - perfect for keeping active kids protected from the elements.