How do children's bones form in their feet as they grow? Why is it so important to fit kids' shoes correctly? What are the risks of poorly fitting shoes?
How do children's bones form in the feet as they grow?
At 6 months old your child's feet are mostly made up of cartilage. As you can see the lighter the area the softer the bones are as there is more cartilage present.
A 2 years old the bone structure is developing but there are still large gaps between the bones.
At 8 years old the cartilage in your child's feet is still there as the bones in their feet are not fully formed yet. The darker the area the harder the bone is, so stronger the stronger it will be.  At this age the growth of their feet slows down and they only grow on average one whole size per year.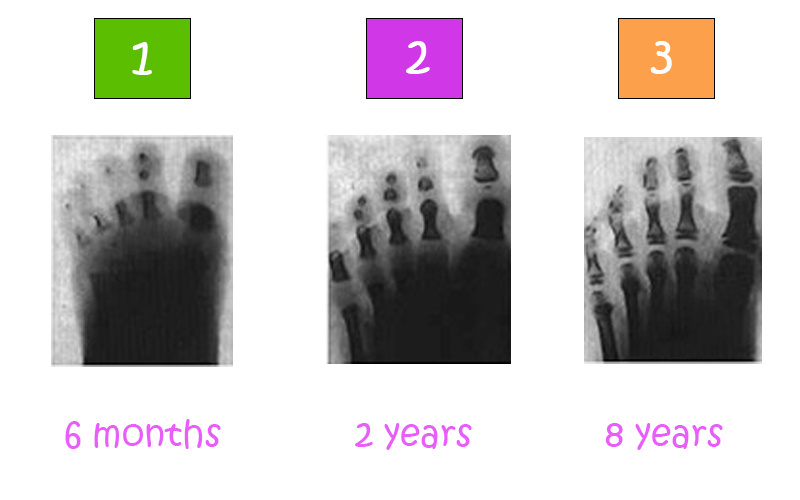 So as you can see even at the age of 8 years old it is still important to get your children's feet measured as their bones are more pliable and susceptible to damage from shoes that do not fit properly.  The bones in a child's foot do not fully form until around 18 years of age.  Therefore, during their childhood their feet are continuously growing and changing shape.
Here is a link to a page which provides some advice from a pediatrician
How to find the best shoe and fit for your child 
Why is it so important to fit your kids' shoes correctly?
As you can see having properly fitting shoes isn't just important for the first few years of a child's life.  It is important throughout the whole of their childhood. Shoes fitted by a trained fitter ensures your child has healthy foot development in the years to come. It is important to get your child measured and their shoes fitted at every stage of development.
Shoes that are too narrow, too wide, too short or too long can cause damage to a child's growing foot and will usually lead to the individual having misshapen feet later in life. Wearing poorly fitted shoes throughout your childhood can also lead to problems such as ingrowing toenails, bunions, hammer toe or even posture and back problems later in life. 
Shoes that are too large cause less for concern – except that they will make the child clumsy and more prone to trips and falls. If the shoe is too small or tight then this is much more of an issue.
In some situations, parents are keen to recycle a child's shoe to a sibling once they have outgrown it. Whilst this is very tempting to do it is not recommended as each child's sole is different and the shoe will have stretched and adapted over time to fit the foot. It is a particular issue if the foot has a collapsed arch as it will have likely changed the sole of the shoe. Fitting this shoe to another child can become a source of pain and discomfort which can affect the foot and leg.
No children's feet are the same.  A trained shoe fitter will advise you on the shoe that is the correct size and shape for your child's feet.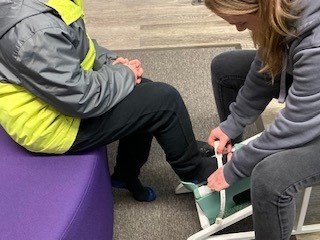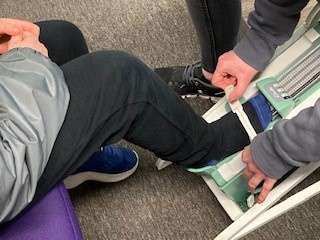 All brands vary in fit and indeed even shoes within a brand's range will fit differently. This is because shoes are often first developed around a wooden mould and therefore each shoe will have different characteristics which will influence the fit. In addition, it is not just the length and width of a child's foot that varies but also the arch, the bridge, the shape of the heel and the relative position of the ankle bone. All of these factors influence the fit of a particular shoe on any one child. So, what is the basic difference in some of the key brands from a style and fitting perspective? 
Clarks
This famous English brand offers a wide range of fits from E (narrow fit) through to an H (extra wide) and come in half sizes. The vast majority of children, perhaps 85-90%, will be either an F or G width.
Ricosta
This German brand tends to be good for a narrower foot (i.e. E-F width) and they come in European sizes
Geox
This Italian brand tends to be good for a standard to wider foot (i.e. F-G width)
Pediped
This American brand are good for the wider foot from a G-H width
Skechers
This is an American brand which is good for wider foot and someone with a higher bridge as they come up quite deep.